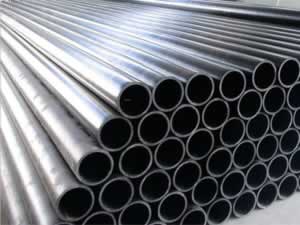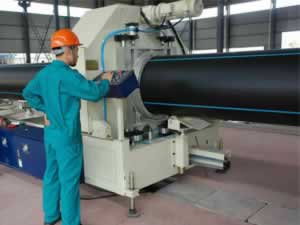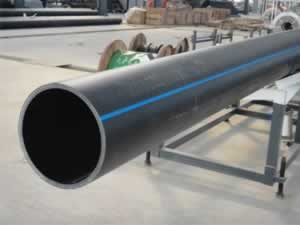 Product name: Steel wire reinforced HDPE composite pipe; HDPE SRTP water supply pipe
Diameter: 50mm – 630mm
Standard: CJ/T114-2000, CJ/T155-2001, EN253:2003;, GB/T9711.1-1997, GB/T50538-2000
Materials: PE100
Color: Black with blue line, Blue, or as client's requirement.
Fittings offered: All
Specification:
Normal Diameter (DN/OD) (mm)

Wall thickness (mm)

PN10

PN16

1.0MPa

1.6MPa

50

-

-

63

-

-

75

-

5.0

90

-

5.5

110

5.5

7.0

140

6.0

8.5

160

6.0

9.0

200

6.0

9.5

225

8.0

10.5

250

10.5

12.0

315

11.5

13.0

355

12.0

14.0

400

12.5

15.0

450

12.5

15.0

500

15.5

18.0

560

-

630

-
Characteristic of Steel wire reinforced HDPE composite pipe:
1. It has higher strength, stiffness, impact resistance than plastic pipe.
2. Corrosion resistance on both surfaces, it has same corrosion resistance with plastic pipe.
3. High work temperature, low thermal conductivity, heat insulation for outer wall is not required when it is used in winter, and no moisture condensation when it is used in summer.
4. Smooth and neat inner wall, no scaling, head loss is 30% lower than steel pipe.
5. Pipe connection adopts electric melting connection which is the mature technology, The electric melting joint has strong axial tension resistance. The pipe fittings have many specifications.
6. Light weight, easy transportation and construction. Overall reliability for pipes is high.
7. Low cost, health and non-toxic, it is the best substitute for galvanized pipe.
Application of Steel wire reinforced HDPE composite pipe:
1. Steel wire reinforced HDPE composite pipe can use in chemical industry: Manufacture industry of acid ,alkali and salt; transmission or discharging pipeline of corrosive gas, fluid and solid powder in industries including petrochemical, fertilizer, persticide, pharmacy, chemical, mining, plastic and rubber industry.
2. Oil and gas fields: Oil-contained wastewater, gas field misture, polymer liquor reinjection to oil well, twice and triple oil extraction and transmission pipelines.
3. Mines: ore pulp, tailings, vent pipes and engineering pipes.
4. Texitile, printing, dyeing and paper industry: Transmission or discharging pipeline to transport corrosive media.
5. Municipal constructions: Transmission pipelines of constructional water supply and drainage, drinking water, natural gas and fuel gas.
6. Non-ferrous metal: Seawater transmission, underdrain transmission pipe, discharging pipes and irrigation water pipe, etc.
7. Agriculture: Deep-well pipes, strainer pipes, underdrain transmission pipe, discharging pipes and irrigation water used in desalinator, seaside power plant and port cities.
8. Thermoelectricity engineering: Process water, recycled water and waste residue transmission in thermoelectricity projects.
9. Express highway: Underground drainpipes and cable conduits.