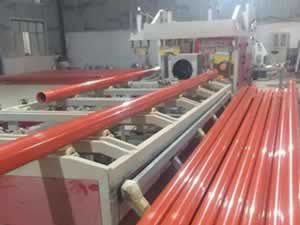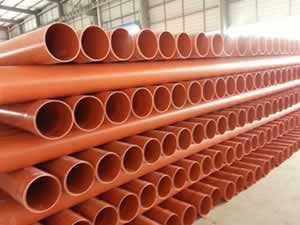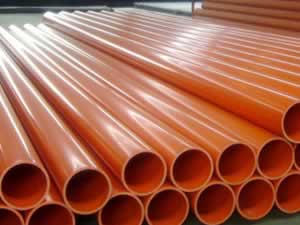 Product name: C-PVC electric pipe
Outside Diameter: DN90mm,DN110mm,DN160mm, DN167mm,DN192mm, DN200mm,DN219mm, DN225mm, DN315mm.
Wall thckness: 3mm – 10mm, or according to client's requirement.
Materials: C-PVC
Color: Orange, or as client's requirement.
Fittings offered: All
OEM/ODM: YES
Specification:
Product name

Inner Diameter (mm)

Wall Thickness (mm)

C-PVC electric pipe

90

3

110

5

160

5

167

7

192

8

200

6-8

219

7-9

225

9-10

315

10
Features of C-PVC electric pipe:
1. Material properties: C-PVC material is heat resistant and insulative. CPVC pipe has hard solid wall and is straight. It's smooth for both inner and outside surface. The color is orange, color bright and eye-catching.
2. Heat-resisting performance: C-PVC electric pipe incease 15 ℃ heat resistant temperature compared to UPVC double-wall corrugated pipe. It can keep non-deformation and has enough strength. under 93 ℃.
3. Insulation performance: It can withstand the high pressure of more than 30000 volts.
4. Compressive properties: Through material modification, its ring stiffness can reach 10MPa, though the government standard is 8 MPa.
5. High impact strength: It can withstand 1kg heavy hammer hit from 2 m height under 0℃, which fully reflects the low temperature impact properties of the material is completely fit for construction under the condition of the environmental requirements.
6. Flame retardant performance: Because its chloride content is significantly higher than PVC, so the flame retardancy and smoke density index inceased obviously.
7. Installation performance: C-PVC electric pipe has light weight and high strength. The construction installation method is simple. Can realize excavation buried at night and backfill the road, the road can be opened as usual during the day. Socket connection method is convenient and quick. Connection sealed performance is good and can prevent leakage of groundwater to effectively protect the safety of the use of the power cable.
8. Long service life: It's corrosion resistant, anti-aging, the service life of up to 50 years.